DRY, FLAKY SCALP
SEEN loves your scalp.
If you struggle with a dry, flaky, and/or itchy scalp, remember that a healthy scalp is essential for healthy hair. SEEN optimizes and nourishes the condition of the hair and scalp (as well as every square inch of skin from head to toe). In addition, all SEEN products are clinically proven to be non-comedogenic (which means they won't clog pores) and non-irritating.
93%

with dry scalp improved
73%

agree my scalp feels calmer
CLINICAL STUDY
In a dermatologist graded clinical study, 30 patients with mild to moderate dry, flaky scalp used SEEN shampoo and SEEN conditioner with optional styling products for 4 weeks: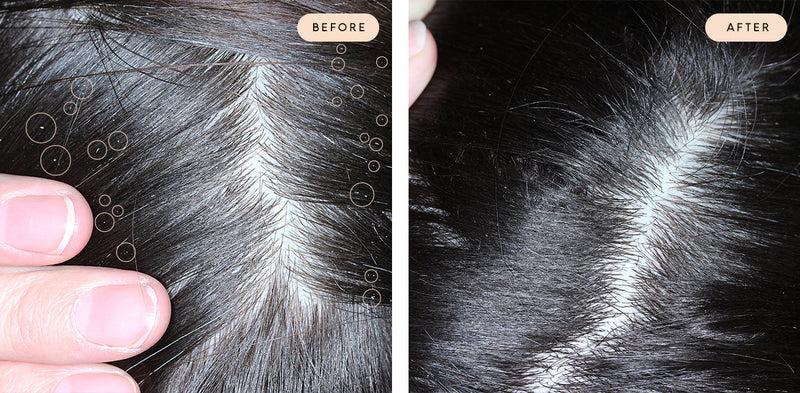 WHAT PEOPLE ARE SAYING
Happy to have made the switch!
"I've been experiencing a dry, flaky scalp, so I researched what was a good shampoo to help with this issue. I've been using SEEN for about a month now and I can significantly notice the differences. My scalp is no longer constantly itchy and my hair feels so clean! Highly recommend!"
Kelly Z.,

Verified Customer
The Best
"I cannot use any other products on my hair. The lathering the shampoo is just perfect (takes longer to get greasy), the conditioner is extremely moisturizing, and the cream just makes my hair feel really protected. This girl went from dry flaky to healthy scalp."
Erica N.,

Verified Customer
Impressed
"I came across the SEEN brand after searching for skin-friendly hair conditioners; this won the Men's Health Grooming Award in that category. Ever since letting my hair grow longer, I need to pay attention to what's in my shampoo and conditioner. I have oily skin overall, but when my hair was short, I didn't need to worry about hair products. I used whatever shampoo was handy and/or on sale; I didn't even need a conditioner. But longer hair means more tangled and dry ends, scalp itchiness and breakouts. This conditioner rocks - best I've used! And I've tried other premium conditioners touted as safe and effective for acne-prone and sensitive scalps. This is lighter, less slick and rinses without a heavy residue. I'm impressed- so much so that I've already placed my second order."
Wayne.,

Verified Customer
---
---