SEEN Essential Bundle
$50.00 $55.00
SEEN is luxury dermatologist-designed hair care that is good for your skin, and great for your hair. Hair care products regularly touch the skin and can be full of ingredients that can clog pores, leading to breakouts. SEEN Shampoo and Conditioner are clinically proven to be non-comedogenic (won't clog pores). Beautiful hair, healthy skin, no compromises.
GOOD FOR
Normal to slightly dry or slightly oily hair
All skin types
Color-treated hair
Keratin-treated hair
NO LIST
Formulated without sulfates, silicones, phthalates, parabens, dyes, pore-clogging oils, formaldehyde/ formaldehyde releasers, or animal testing. Free of compromise.
NOTE: A fragrance-free version is available as well.
Product Details
SEEN Shampoo replaces hidden irritants and pore-clogging ingredients with a fresh balanced clean that leaves your hair feeling fresh and your skin happier.

Formulated without sulfates, the formula features a mild surfactant to create great lather and texture.
Key Ingredients
Hemisqualane

Nature's answer to silicone. Sugar-derived, it provides color protection, reduces frizz and keeps hair smooth. Unlike silicone, it biodegrades.

Bisabolol

A chamomile derivative with skin-soothing properties.
Full Ingredients: Water, Sodium Lauroyl Methyl Isethionate, Cocamidopropylamine Oxide, Glycerin, Acrylates Copolymer, Glycol Distearate, Trisodium Ethylenediamine Disuccinate, C13-15 Alkane, Guar Hydroxypropyltrimonium Chloride, Polyquaternium-7, Bisabolol, Citric Acid, Disodium Edta, Phenoxyethanol, Ethylhexylglycerin, Aminomethyl Propanol, Fragrance, Sodium Hydroxide, Tocopherol, Sodium Benzoate
SEEN Conditioner will detangle, soften, and add healthy shine without weight, while helping maintain clear skin. We replaced hidden irritants and pore-clogging ingredients with effortless beauty. For best results, use liberally and leave on hair for 2-3 minutes before rinsing.
Key Ingredients
Hemisqualane

Nature's answer to silicone. Sugar-derived, it provides color protection, reduces frizz and keeps hair smooth. Unlike silicone, it biodegrades.

Bisabolol

A chamomile derivative with skin-soothing properties.
Full Ingredients: Water, C13-15 Alkane, Cetearyl Alcohol, Cetyl Palmitate, Stearamidopropyl Dimethylamine, Behentrimonium Chloride, Shea Butter Cetyl Esters, Glycerin, Phenoxyethanol, Fragrance, Polysorbate 80, Citric Acid, Bisabolol, Disodium Edta, Ethylhexylglycerin, Tocopherol
Curious about SEEN? Try a FREE sample on us.
Try SEEN For Free
Customer Reviews
Write a Review
Ask a Question
08/09/2020
Rachel Y.
United States
Great for Thick Hair & Combination Skin
I've been using Seen For 5 weeks now and have been very impressed by the product. My skin isn't irritated (I have bad chronic acne) and my hair feels super healthy. My hair is very thick and long. I have a hard time finding products that make my entire head of hair feel clean. I find that I can go multiple days without washing my hair and it doesn't get as oily as it used to. I'll continue to use Seen, as the results have been refreshing.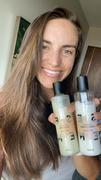 05/22/2020
Megan C.
United States
My search is finally over! SEEN is Amazing!
I'm attaching my response to a very kind email sent to me by the co-founder of SEEN, apologizing for the 10-day back order of the liter bottles of shampoo and conditioner I ordered; he asked if I still had enough to last until my order arrives, which I believe I do! He was prompt in letting me know and, if it had been an issue for me, I gathered that he was willing to go the extra mile to remedy the situation, which I greatly appreciate! I replied with the following message and, again, received an effusive response without delay. It's always such a pleasure to do business with engaged people who really care! "Hello Greg! Thank you for emailing me and letting me know! I have about 4 ounces of each left, so I believe I can stretch it to make it last! I just want to say how relieved I am to find such an amazing product line! I searched for years and always had one issue or another. SEEN does a fantastic job of cleaning and conditioning while using a very small amount, does not cause me to have psoriasis flare-ups, dry or greasy hair, skin rashes or acne, it smells great - like something nostalgic from my childhood - I just can't remember what, it lathers and rinses quickly without leaving residue, I can finally go a few days in between washes and my hair still looks great, and finally, it doesn't contain any ingredients that I try to avoid... it is quite simply a miracle and such a blessing to me! So please, please, please.. don't ever change your original recipe or go out of business! You have a customer for life! Thank you so much for creating this amazing product, I am happy to wait a little longer to receive it! Lots of Love! Megan C." When I made my first order, I was skeptical that the price would end up being worth it, but I'm so glad I took the plunge! Nothing I've tried, and I have tried 15 years worth of every product imaginable (thousands of dollars worth), has held up against my skin and hair's very thorough scrutiny and protest - but I finally found the hair (and skin) care that truly doesn't compromise! I will also say that I have ****** hair, which I only wash and condition, I always let it air dry and never use styling products or heat on it, so I am certain that the difference in my hair and skin is absolutely all exclusively thanks to SEEN! I have zero reservations about loving this company; I would buy stock in it if I could! Take the plunge, you won't regret it! (Attached are photos of my hair this morning after going to bed last night with it wet, so, some uneven waves and curls, but low maintenance, healthy, soft, shiny, lightweight hair! And my skin is happy too!)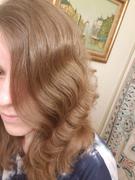 03/02/2020
Alexi .
United States
LOVE THIS PRODUCT!
The smell is divine, the product is high-class, && let's be honest...SEEN has great branding, too! I've been using this product for a year already, and from the moment you experience SEEN, the quality is clear. It's sudsy, but not too sudsy, and leaves my hair feeling fresh and clean. (Even in India, where the water forbid nearly all suds, it was PERFECT!) I haven't had any issues with my skin since since using it, and that in itself is a testament to its quality. THANKS FOR THE GREAT PRODUCT!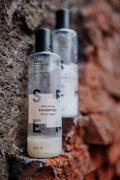 ---